FAQs
How do I wash my hammock nettings?
---
For the polyester hammocks with wooden bar, you may place the two wooden bars together and dip the polyester netting into a pail of soapy water to hand wash. Keep the wooden bar away from water. For the canvas hammocks including the Grey swing chair canvas and Manhattan/Brooklyn Chrochet models, machine wash is allowed. Please do not use the dryer. Use a laundry bag and delicate setting for best results. For the LUXE Swing chair, dry-cleaning is advised. For the Resort netting, hose it down with a water hose or send it to the laundry for steam cleaning. Please note that for all nettings, it is advisable to keep them indoors when not in use to prevent rusting on the metal chains at both ends and to prevent mould and mildew from growing on the fabric given the extremely high level of humidity in Singapore.
---
What are the differences between the nettings (Standard- Soft/Firm, Premium- Manhattan and Resort)?
---
A) Standard with 50cm wooden bar (100% Polyester Mesh) : 1) SOFT These nettings are wider in width and wraps you up when you lie in it. This is very popular amongst kids and adults up to 76kg.
2) FIRM
These nettings are narrower but provides more back support, ideal for adults with lower back problems. Also for the heavier user up to 90kg.
B) Premium (100% Sustainable Organic Cotton and Rope) 1) Manhattan Crochet (With side tassels) / Manhattan (Without side tassels) : Premium 100% cotton [MEDIUM SOFT] Designed for ultimate comfort and easy maintenance as it's machine washable. It also provides good support for overnight sleep. The absence of a wooden bar also enables the user to be wrapped up fully, providing a full cacoon effect. Manhattan Crochet:
Manhattan:

2) Rastafarian Rainbow: Premium 100% cotton with 50cm wooden bar [MEDIUM SOFT] Deluxe length that fits an adult up to 190cm, very spacious and secure.
C) Resort (A premium blend of cotton-rope mix, with solid 60cm wooden bar) 1) Honolulu Ash Grey Exclusive resort-grade handmade cotton-rope hammocks, with a larger lying area and an excellent back support. Comfort 10/10. Most popular design.
---
What is the exchange policy?
---
Please retain your DO and transaction number for any returns or exchanges. Do note that all exchanges must be made within 3 days of the date of receiving the item. All exchanges would be done at our office: 62 Ubi Road 1, #09-13, S(408734) Requests for exchanges would not be entertained after 3 days upon receiving the item Customer to pay for return shipping fee Exchanges will be accepted on a case by case basis
---
How long is the warranty period?
---
We have extended our guarantee on our hammock stands to be free from defects for TWO years. Please see detailed warranty policies under our T&Cs tab. Now, you can relax with a peace of mind. https://www.airmocks.com/termsandconditions
---
Who is shipping my product?
---
Standard and express delivery will be handled mostly by J&T express with 2 complimetary redeliveries. In some cases, we might use other third party couriers or our own delivery personnel.
---
How long would delivery take to arrive and how much is delivery?
---
Standard delivery will take 6-9 working days and Express Delivery will take 3-4 working days. Delivery charges range from $10- $20 rate on all orders. Enjoy free delivery over $200. Standard Delivery: $10-$20 (5-8 Working Days) Express Delivery: $30 (2-3 Working Days) Prioirity Delivery and Installation: $50 (2-3 Working Days) Please note that there will be a surcharge of $15 for deliveries to Sentosa Island. Walk-up apartments with no lifts will be chargeable separately at $5 per floor.
---
International Warranty
---
It is our company policy that the customer must pay for all shipping expenses on the return/exchange of our product. Exceptions may be made if the reason for the return is a mistake on our behalf. We will not assume responsibility for misdirected, lost or damaged return shipments. Return shipments should be sent with a courier that offers tracking service such as FedEx or DHL.
---
International Shipping
---
All international deliveries are now handled by Fedex Express. Please ensure that the correct delivery address is entered. All items are subjected to overseas import taxes, borne by customers. Please drop us an email at sales@airmocks.com for the estimated shipping charges. Please check out rates here: https://www.airmocks.com/internationalrates
---
What are the differences between Single, Dual and Tri- Function models?
---
1) SINGLE FUNCTION - Non-convertible frame that can only be used as a hammock. Only one knob to be used at an angle for the hammock. Cannot be shortened to the swing chair setting.
- Each set comes with a Matte White/Black Non-convertible frame and a hammock design of your choice.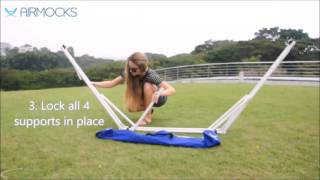 2) DUAL FUNCTION - Convertible frame that can be used as a swing chair AND a hammock. Two knobs to change the different angle to use as both hammock and swing chair. Frame will be at an angle for the hammock setting and at a 90 degrees right angle for the swing chair.
- Each set comes with a Matte White/Black Convertible Frame, 1 Swing Chair of your choice: Choose from Classic/Classic Plus/Luxe and 1 hammock design of your choice.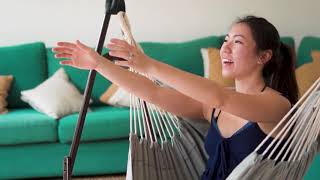 3) TRI FUNCTION - Convertible (wooden laminate) frame that can be used as a clothes rack, swing chair AND a hammock. Same two knobs to change the angles. 90 degrees right angle for both the swing chair and clothes rack.
- Each set comes with a Wooden laminate convertible frame, 1 Swing Chair of your choice: Choose from Classic/Classic Plus/Luxe and 1 hammock design of your choice. _______________________________________________________________________________ A) HAMMOCK SETTING (Knob B in photo below) When using the hammock setting, all the frames are able to fit all our different sizes and lengths of hammocks. There are 3 different levels for the hammock setting, 220cm, 240cm and 260cm, depending on which catch you use. The different lengths are also used for the different hammock nettings. The Resort Netting for example can stretch to 260cm. However, the basic polyester nettings can only fit the 220-240cm settings. 220cm: Bb on both sides 240cm: Bb on one side, Ba on one side 260cm: Ba on both sides

B) SWING CHAIR SETTING (Knob A in photo) Only the dual and tri function frame can fit the swing chair fabric, classic or luxe. Only the tri-function frames come in the wooden laminate finish.
Only one setting for swing chair: Aa on all four sides (90 degrees angle)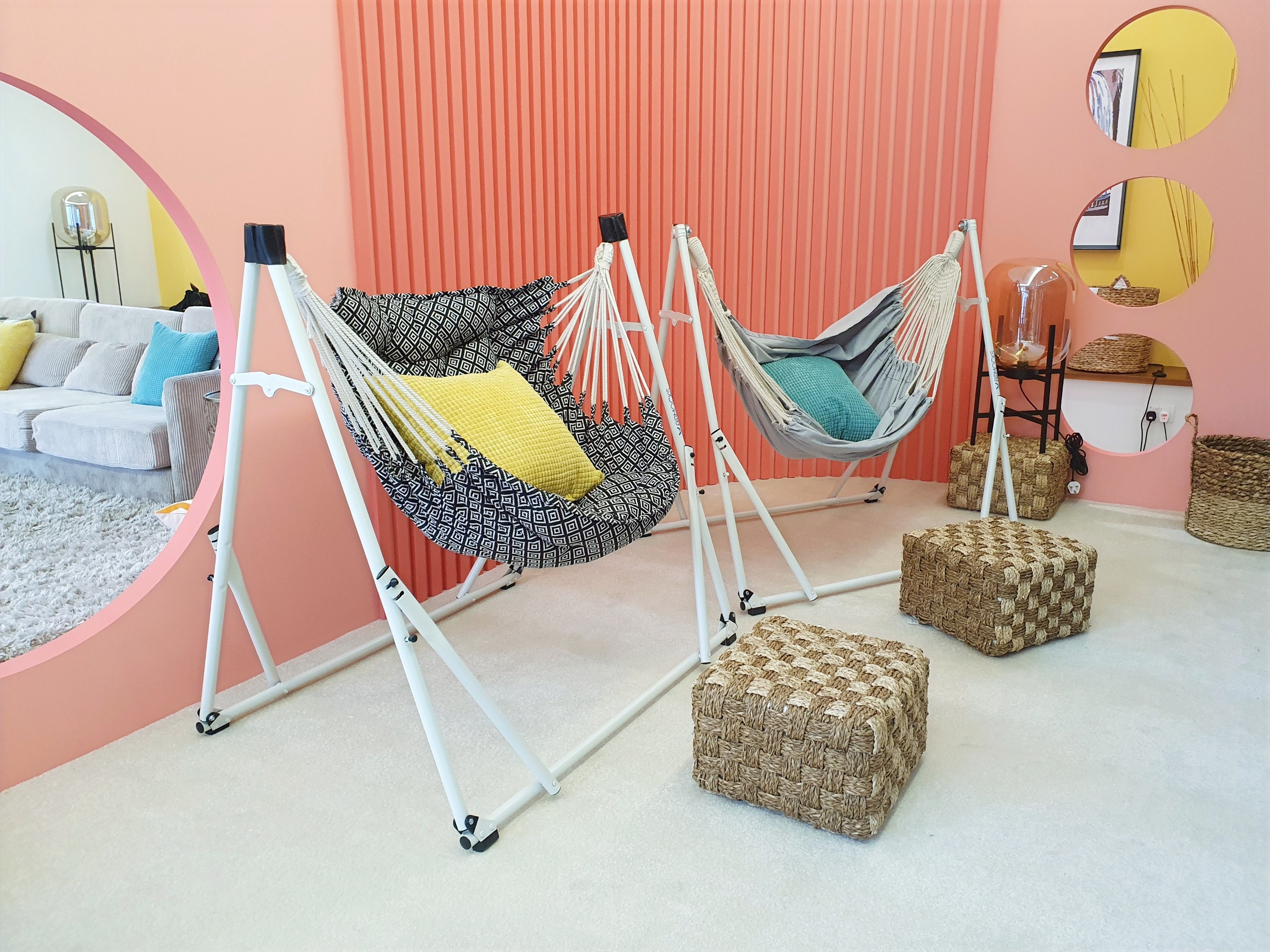 C) CLOTHES POLE SETTING Only the tri-function (wooden laminate) frames come with the clothes hanging pole as it's our newest addition to the family. Same setting as swing chair:
Attached video shows the conversion of our dual-function hammock frames from swing chair to hammock.